The History of Fort Myers
Built on the banks of the Caloosahatchee River, Fort Myers is located in the same strategic location twice chosen by the United States Army for a military fort. Even before the Army had come, fierce, wily Seminole Indians had chosen the spot for their villages. And long before the Seminole had arrived, the powerful "ancient ones" known today as Calusa had built earth and shell living mounds along the south side of the river.
A look at old Army maps from the 1830's shows why the Caloosahatchee area remained a desired location down through the years. From its mouth near San Carlos Bay, the wide and winding river broadened to a width near present-day downtown of almost two miles. Visibility was good in both directions, and there were plenty of creeks that served the Calusa and Seminole as watery escape routes into the vast Everglades. From there, the Indians could easily travel east to the Atlantic Ocean, or south to the Florida Keys and the impenetrable salt marshes near Cape Sable.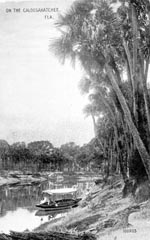 After the Wars of Indian Removal, Confederate blockade runners and "Cattle Kings" called the Caloosahatchee River valley home. For settlers willing to risk the hardships of frontier living, trade with the remaining Seminoles and the incoming Union soldiers was prosperous. Captain Manual A. Gonzales, who had shipped supplies and carried the mail on his tiny sloop during the war, settled with his family in the abandoned Confederate garrison known as Fort Myers. Gonzales operated the town's first trading post. Eager to trade for tobacco, beads and gunpowder, friendly Seminoles brought in bundles of otter, bobcat, deer and 'gator hides.
In 1881, the wealthy industrialist Hamilton Diston of Philadelphia came to the Caloosahatchee Valley. Diston's goal, he made it known, was "to drain this worthless swamp you people call Everglades." By dredging through shallows where the Indians had once traveled on canoe trails, Diston connected Lake Okeechobee with the Caloosahatchee River. Steamboats churned the waters from the Gulf of Mexico to Lake Okeechobee and up the Kissimmee River. The sleepy little town of Fort Myers - all 349 residents - was incorporated on August 12, 1885.
The next year, the Town's only schoolhouse burned to the ground. When school officials journeyed to the distant Monroe County seat at Key West to request funds to rebuild, they were told there was no money for a new school, and they "ought to learn to take better care of county property."
Incensed, the citizens of Fort Myers petitioned Tallahassee to secede from Monroe County. On May 9, 1887, town fathers received word that their request had been granted. Lee County had been born. Fort Myers, named as the original county seat, was soon to gain its long-standing title as "Gateway to the Tropics."
*Historical information thanks to "Dining and Doing Guide"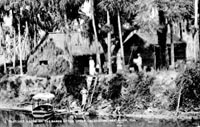 Life along the Caloosahatchee River -- 1914
CLICK HERE FOR
HISTORICAL PHOTO TOUR
---