Welcome to Fort Myers
Welcome to fortmyers-online.com. Fort Myers is know as The City of Palms and was made famous by Thomas Edison and Henry Ford. Impresseed by the tropical climate and natural beauty, Edison spent his winters in Fort Myers as thousands of visitors do each season today.
Fort Myers is located on the Caloosahatchee River, and is the oldest city in Lee County. Historic downtown brings back the flavor of old Florida.
We're showcasing all that Fort Myers Florida has to offer right here. Make this web site your springboard for jumping into the Cities and Lifestyles that make up our paradise!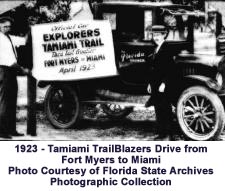 Interested in history or historical photos? Step back in time with our historical photo album -- photos dating back to the early 1900's show life in early Fort Myers.
Our Featured Website!